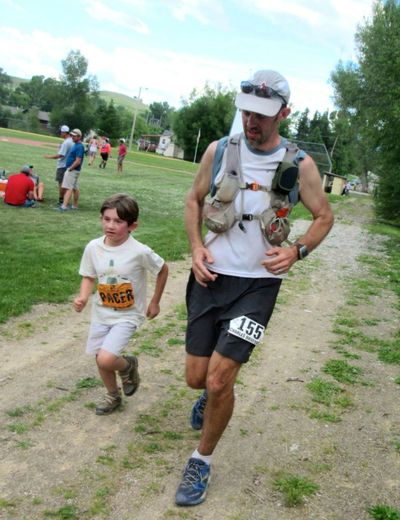 A pacer is any individual who accompanies a runner for a distance greater than 100 yards
Pacers are only allowed to accompany 100M runners. There are no pacers allowed for the 52M, 32M or 18M distances.
One pacer at a time may accompany each 100M runner starting from Sally's Footbridge Outbound (mile 30), Jaws Trailhead (Turn-around, mile 52), Sally's Footbridge Inbound (mile 66), and Dry Fork Ridge Inbound (mile 82.5).An entrant over the age of 60 or with special medical conditions (MUST be cleared by the Race Director in advance by April 30th) may be paced from the start.
Vehicles are not allowed on Tongue River Canyon Road from the Trailhead to the finish at Scott Park. We encourage you to meet your runner by either walking, running, or biking on the road. A crew runner may accompany the competitor on the final course section into the park, but must only do so on foot, or on a bike.
Each pacer must sign a waiver release prior to pacing a runner. These will be available at packet pick-up, the pre-race briefing and from the aid station captain at Sally's Footbridge, Jaws trailhead and Dry Fork Ridge. Crew/Pacer vehicles on Tongue River Road subject their runner to disqualification.
Pacers must be at least 18 years of age. Specific exceptions to the age requirement may be made in advance of the race by the Race Director with a guardian's signature.
Each pacer must wear the official pacer bib of the entrant he/she is pacing. One pacer bib is provided per entrant at race check in. The official pacer number must be transferred between pacers if duties for one runner are to be shared. If a pacer becomes unable to continue the race, the official pacer number must be given to the runner, so that subsequent pacers will be properly identified. Pacer bibs are available at packet-pickup or from the aid station captains at Sally's Footbridge, Jaws Trailhead and Dry Fork Ridge.
Each pacer must clearly identify themselves when passing through checkpoints so that race personnel know exactly who is on the trail and where. Pacers must stay with their runners at all times, except in the case of emergency. If the runner withdraws from the race, and the pacer wishes to continue, the pacer must remain at the Aid Station until another runner enters the Aid Station and requests the services of a pacer. The pacer may not continue on without an official race participant.
Pacers must enter (CHECK IN) and leave (CHECK OUT) each Aid Station WITH their runners. Runners are to carry their own supplies and pacers are to carry their own supplies. No mechanical or physical assistance may be given by the pacer to the runner at any time.